Today is Dongzhi – the Winter Solstice. My friend ACai mentioned the day on the BBS of my old classmates. I wasn't aware of that till then.
It is a tradition in my hometown (Henan of Central China) to eat Chinese dumplings (Jiaozi) on this day. Children are told that if you don't eat dumplings on that day, their ears will be frozen and drop down. Yes. All child believe in it. :-D I laughed when the folklore was mentioned on the BBS again.
Day time today is the shortest in the whole year and Sun is farthest south. I found very interesting explanation about relationship between this holiday and the belief of yin and yang:
This celebration can be traced to the Chinese belief in yin and yang, which represent balance and harmony in life. It is believed that the yin qualities of darkness and cold are at their most powerful at this time, but it is also the turning point, giving way to the light and warmth of yang. For this reason, the Dong Zhi Festival is a time for optimism.

Quoted from Hong Kong Tourism Board
According to this website, even the Yin Yang (or Tai-Chi) symbol comes are related to this special day.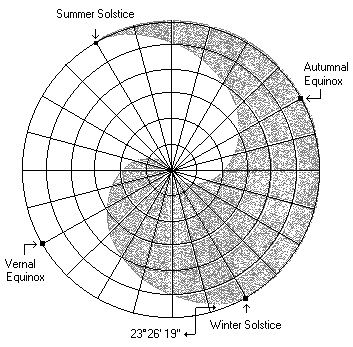 Credit: Chinese Fortune Calendar
Read on in that article. I have to admire those who discovered this thousands of years ago. They are clever people.