Let me show off my new home PC – HP Pavilion A610CL.
The front of the box. Looks nice
© Jian Shuo Wang
I opened the box to add additional 256M memory.
© Jian Shuo Wang
Clean motherboard.
© Jian Shuo Wang
I installed Windows XP on it.
© Jian Shuo Wang
I went to buy a new PC because I am tired of typing on laptops. I have a Dell Latitude D600 and Wendy has a Dell Latitude C200, but we have to bring it to the company and back home back and forth. As the keyboard instruction on the laptops indicates, the laptops are designed only for mobile computer and not for office use – long time typing on a laptop keyboard may hurt the hands and arms. I believe in it since my hands start to hurt when I type a long blog entry. So I need to get a home PC in my home.
Buying a PC is convient for me. The Metro City computer super market and the Pacific PC are just downstairs (if you are interested in the location, here it is: #1111, Zhao Jia Bang Rd. You can get there by Metro Line #1, Xujiahui Station).
This is the first time I buy a branded PC for myself. This is the second PC I have in my home. The first costs 8400 RMB (as I remember) and was bought when I stayed in my rented Meilong house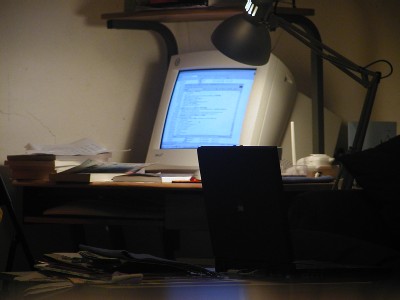 I bought every computer part and assemblied together. Later, I became very frustrated with the computer due to the drivers' and compatibility problems. I bought very nice display card but I seldom play game on it after I bought XBox. (Yes. I didn't play XBox often after getting it for a while). So I decided to buy a branded computer with tested compatibility, with driver CD and service. Then my choices are either HP or Dell. Dell has a longer shipment cycle. Do they really manufacture by order? So how many days it takes between building it in Xiamen to send it to my home? When I want something, I just want to bring it home immediately.
I never used HP before but want to have a try. I have to say the "Plus" advertise worked well for me – it brought a new face to HP.
There are many local PC providers. The largest is Lenovo. However, I checked the PC and found it is almost the same (if not worse) than the manually built system – the design, the configuration and the compability problems.
From this purchase experience, I found Wintel is really facing big challenges. The CPU in HP Pavilion a610cl is AMD Athlon XP 3000 and operating system is TurboLinux. The reseller offered to install any version of Windows system for me after my purchase free of charge. This happens all the time.
S/N: CNA42801JY