Got an email with questions about Shanghai. I am going to answer the mail in public. Also, I removed all the personal information from the mail before I get confirmation from the sender that he wants his name appear.
The Letter
Dear Jian Shuo,
You have the most informative site I have found about Shanghai in the whole Internet. I really like it very much. Thank for spending so much time and effort for it. We as visitors really appreciate it. I am a little bit sad that the Maglev will only operate on particular days, because when I read your news yesterday I thought from today on it would be running permanently. We will be arriving on the 13th October, so we will not have a chance to use it to get into town, right? Just some questions, if you have the time:
We will have to get to the Sheraton Grand Tai Ping Yang Hotel, Zunyi Nan Road. Would you recommend to take a taxi to get there? How much will it cost approximately? Will it be okay if I show the taxi driver the reservation confirmation of the hotel which shows the name of the hotel (but not the road!) in Chinese and Latin letters. I am asking because I had some kind of trouble in Beijing once and drove trough the town with the taxi for about 3 hours because the driver did not know (or want to know) where my hotel was ;-) …
More questions: Is it correct that temperatures for the next 10 days will be around 18 degrees daytime and around 10 degrees night time?
Can I also change Euros into Yuan in the Airport? Or only U.S. Dollars?
Are there places to change money inside the town?
Can I usually pay by credit cards in restaurants and shops?
Oooops – quite a lot of questions, hope I don't bother you too much.
The Answers
I receive increasing number of this kind of information inquery email everyday. To help more people, I tend to answer them and publish the answer on this site in case others has the same quesitons.
Get to Sheraton Grand Tai Ping Yang Hotel
I highly recommend you to take the Airport No. 3 to the hotel since the terminal stop of the route is exactly at the Sheraton Hotel. It costs only 20 RMB and 90 minutes. To take taxi there, it will costs about 150 – 200 RMB to ge there. However, it should be a little bit faster since the taxi will go via the outter ring road and the elevated highway. So you will not see a single red light on the road. For people going to other places, I will recommend taxi if the cost is not a problem.
Taxi Drivers
During the time of APEC, most taxi drivers were trained to speak at least one hundred sentences of English. However, don't expect your taxi driver to be able to communicate with you. I believe most taxi drivers know the hotel well and your receipt with the Chinese name will work. If it does not work, be sure to tell the driver the word of "Hong Qiao", since that area is the most famous area and the area is not large.
Current temperature
Yes. It is true. 10 – 18 degree C. I am still wearing my T-Shirt today, but felt a little bit cold. I believe a shirt will do today. However, it is forecasted that the temperature will goes down – many places in north China has snowed already these days.
Currency Exchange
You can change from many foreign currencies to Renminbi at the Bank of China counter located at the Arrival Hall. I even have a picture for you.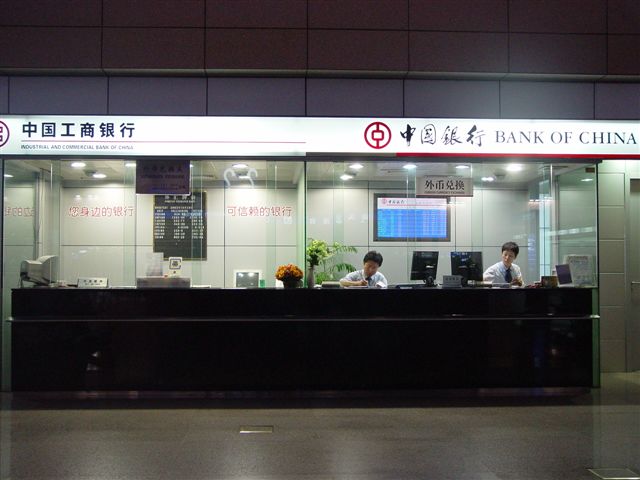 Also, if you check their website at http://www.bank-of-china.com, you can find the current exchange rate as below:
USD 826.46 821.49 828.94
HKD 106.63 105.99 106.95
JPY 7.4509 7.3948 7.4882
EUR 959.31 951.15 962.19
GBP 1377.29 1344.88 1381.43
You can easily exchange your EURO to RMB at any Bank of China branch office. There are some others banks that can exchange currency for you, but the Bank of China is easiest one to find. Look for this logo:
Credit Card
Most large shopping malls and department stores accept credit card. By large, I mean the store that seems clean and has at least two floors. This is only a rule of thumb. Check with the store or restaurant before you shop or eat there. It is very embarressing if the card does not work.
Also, keep in mind to bring some RMB cash with you since 1) the credit card, especially international credit card may not always work at local machines 2) not all operating staff can operate the international credit card correctly.
I hope I have answered all your questions. I'd also like to repeat there, that by writing to me, you agree that I publish the content of the email to the website. Also understand I am not able to answer all the questions.