I have been talking about Shanghai taxi for many years, but the most frequent questions I got from day to day email is still about the best taxi company, and is about asking me what is my recommendation regarding Shanghai's Taxi. The answer is pretty easy and straight forward: Dazhong Taxi 大众 is the best taxi company in Shanghai, and is definitely my recommendation.
Here is a photo of the taxi.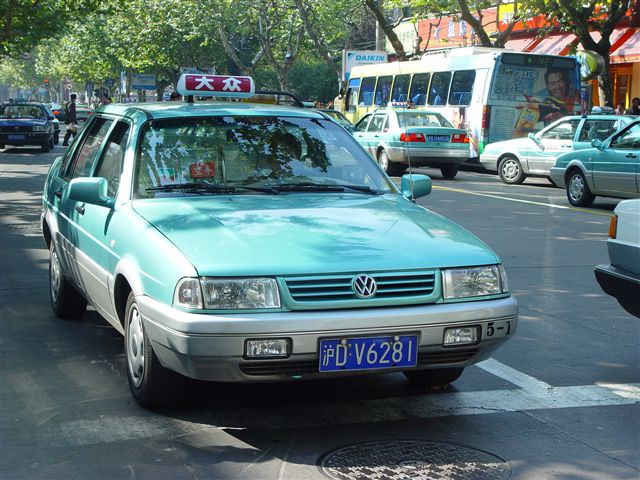 Why is Dazhong Taxi Good?
There are several factors to rate a taxi company. Here is my reason to pick Dazhong as definite best taxi company in Shanghai:
1. Service. Among all the taxi companies in Shanghai, the service provided by the drivers of Dazhong is definitely the best: they will greet you in standard language when you get on board, and they will ALWAYS remind you to bring your belongs when you get off the taxi. Besides that, drivers of Dazhong taxi are really nice to you. They do face growth problems, and there are some new drivers who do not know the streets so well – sometimes I encounter with one or two of them, but they are generally very nice.
2. Quality of the cars.
If you pick cars by how clean the seat cover is, I suspect Dazhong taxi will be the winner. Their seat cover is always white – snow white. There are certainly some expectations, but it is very rare during my experience. I always use them when I have a choice.
Their Call Center
Remember this number: 82222
or +86-21-82222 for reservation.
The Story behind the Color Turquoise
There is a little story behind the color of Dazhong taxi. It was not always turquoise. At the very beginning, when Dazhong taxi started, they use red as their identification color. At that time, there are not so many taxis. Later, when more and more companies joined the competition later, they all use the same red color. This caused problem for Dazhong, since they cannot identify themselves from the competitors. So they made a deal with Volkswagon, the taxi car maker, and bought out all the cars with color turquoise. Today, if you see a Volkswagon Santana that is turquoise, it has to be a Dazhong taxi.
Now, more and more taxi companies are using their identification colors, like yellow for Qiangsheng, white for Jinjiang Taxi, Green for Qiangsheng Taxi, and Blue for Haibo Taxi. There are more interesting thing around the color. In Shanghai, there are just few big enough taxi companies are allowed to use identification colors, and the red color are used for all the little taxi companies.