Today is June 24, 2004. It is in the middle of the rainy season in Shanghai. This afternoon, Shanghai experienced the heaviest raining in the recent years (from my observation and experience). It was rainning cats and dogs outside around 4:00 PM. The sky became completely dark. The rain even triggered some of the alarm system of cars. Some sensitive cars kept beeping loudly. I started to worry my grass in my garden.
Look at the Shanghai Weather Forecast. (Please note: It always reflect the current Shanghai weather and may not be accurate after today).
Raining Everywhere
My friend Hengge, CEO of blogbus.com changed his display name to Storm this afternoon. He is in Zheng Zhou, central China;s Henan Province. He recorded the strong storm in Zhenzhou and the damage it caused in his blog. There are three great pictures on his page.
Beijing is not better. Wendy went to Beijing for business trip today. Her flight was scheduled to depart at 12:00, but she was still in the Hong Qiao Airport around 3:30 PM. She chatted with me on MSN Messenger with XGAO's SmartPhone + GPRS. It is due to the strong storm in Beijing airport. She was lucky that the plane left the airport before the strong storm in Shanghai. Now she has safely arrived in Beijing.
The rainy season will continue for several weeks.
P.S. I had dinner with old friend Maphis today. He shared some thoughts after running his own company for 2 years. He was both a computer genius and a good photographer. Check his fantastic photos of Jiuzhaigou. I have asked him to share more pictures with me so I can post them to my website soon. Among all the photos, I love this one most – it is the most beautiful place in China.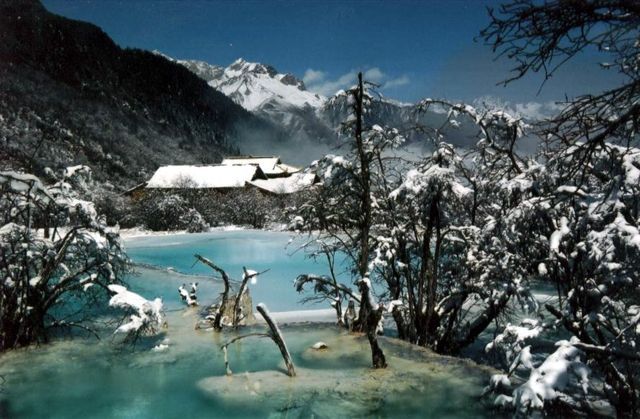 Photo provided by: Maphis Cheng (Xiang CHENG) Copyright © 2002 Maphis Cheng. Used with permission.
His pictures are more beautiful than my Daocheng pictures.