Maglev is really hot recently. I can tell from the number of emails I received asking about the operation of Maglev. There is no such kind of good information on the web yet.
In the last few months, I have collected some and shared in the following articles:
More articles can be found at PVG Category page (PVG is the international air code for Pudong Airport)
Recent Operation
Now the Maglev has started to take passengers at Pudong Airport and drop them off at Long Yang Road Station. The price for single trip is 75 RMB.
Location of Maglev Station
Steve asked:
Is the way to the maglev train from the arrivals area clearly marked? Are there signs in English as well as other languages.
Well. It may not be easy for people to find the station. Since there is not sign for the Maglev yet at the International Arrival Hall. You will get very confused when you get there. It is another proof of the poor usability of Pudong Airport. I feel it is my responsibility to post some pictures about how to get to the Maglev station.
After you get out of the International Arrivals Exit (shown below), find the sign pointing to Parking. It is on the second floor of the airport. You can arrive there either by using the escalator on the right or the elevator in front of the gate.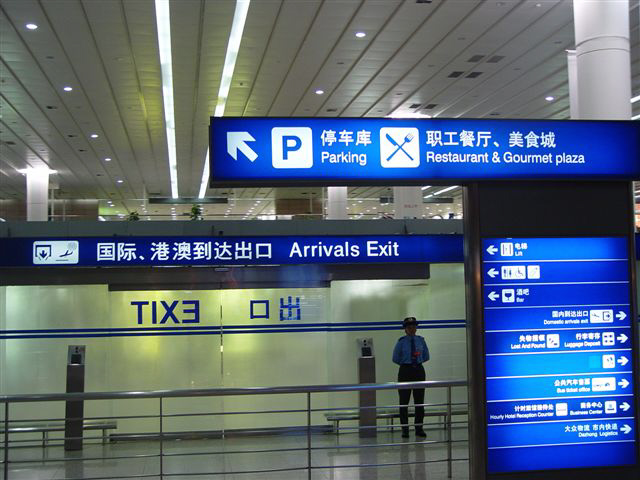 After you arrive on the second floor of the airport, follow the sign to the parking lot. Then you will see a long bridge from the airport to the parking lots. It is shown in the picture below:
© Jian Shuo Wang
After you enter the long hallway, you will see the first sign on the top pointing to Maglev. You can see the sign of Maglev Entrance with both English and Chinese name. The icon
is interesting.
© Jian Shuo Wang
After you arrive the end of this hallway, you have entered the building of Maglev Station. There is even a KFC restraunant there. It may be good choice if you are really hungry after the long trip.
© Jian Shuo Wang
Below is the innovative roof of the Maglev Station.
© Jian Shuo Wang
Relationship between the Maglev Station and the Pudong Airport
Actually, the two buildings are seperate, but connected with a bridge. See my diagram below:
I happen to find out another picture I took after the plane just departed on my trip to Xiamen.
It is highly appreciated if someone can share with others about your REAL experience to take the Maglev train – I haven't get a chance to give it a try yet.